June 6, 2022 4:58 pm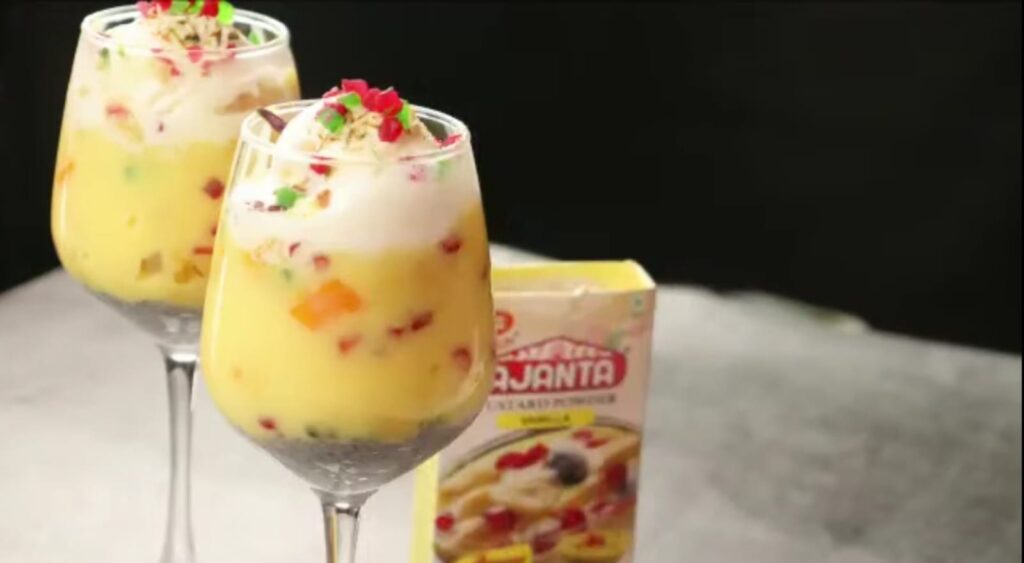 Layered fruit custard is an easy and quick dessert that you can surprise your kids with at dinner. It offers a perfect base for colorful, tangy fruits and creamy custard sauce. In this post, we will learn how to make layered fruit custard recipe at your home.
Ingredients:
4 tablespoons custard powder from Ajanta Food Products
Water
2 tablespoons chia seeds
Half litre full cream milk from Amul
4 tablespoon sugar
Sponge cake
Pomegranate
Chopped mangoes
Tutti frutti
Chopped bananas
Vanilla ice cream
Tip1:
Check out https://bit.ly/3KXA7vy to buy baking combo from Ajanta Food Products. This combo contains Baking Powder, Cocoa Powder, Custard Powder, Vanilla essence.
Tip2:
Make delicious cake by trying out flipkart (https://bit.ly/3ueaUqd) to buy Ajanta 2 Cocoa Powder (50g each) 2 Drinking Chocolate (100g each) Pack of 4 Combo (300g).
Tip 3:
Click https://bit.ly/3Ilv8Dh to visit flipkart and buy Ajanta Combo of Baking Powder 100gm, Cocoa Powder 50gm, Custard Powder 100gm, Vanilla Flavor 20gm Combo (100 gm, 50 gm, 100 gm, 20 gm) .
All the products are ISI mark and are made from high quality ingredients. This combo is perfect for making any cake. All these products are FSSAI approved and with ISI marked to ensure high standards of quality.
Directions:
In a small bowl, add custard powder from Ajanta Food Products and water. Mix well and make lump-free slurry. Keep it aside.
Take chia seeds and add water to make uniform solution.
In a saucepan, you should take milk and add sugar. Boil it on medium heat.
Lower the heat and add custard powder mixture into the milk and mix it well. Bring the mixture to boiling. Remove it from the stove and keep it aside.
Assemble
Add soaked chia seeds into the bottom of a wine glass.
Add few drops of rose syrup into the soaked chia seeds into a wine glass.
In the wine glass, add sponge cake into the soaked chia seed and rose syrup mixture.
Now, add chopped apple into the wine glass along with pomegranates.
Into this mixture, add custard powder and milk mixture. Fill the wine glass till half with custard and milk mixture.
Add fresh chopped mango into the wine glass.Now to make this recipe fruit custard more colorful, you should add tooti fruti into it.
In order to fill the 3/4th portion of the wine glass, now you should add sponge cake again into the wine glass.
Add chopped bananas into the wine glass.
Add mango pieces on the top of the chopped bananas.
Add custard milk mixture on the top of the mixture to make it more creamy and delicious.
Add one scoop of vanilla ice cream on the top of the wine glass.
Garnish it with some nuts and tooti fruit along with pomegranates.
Refrigerate for few minutes before serving
Enjoy delicious, colorful and creamy layered fruit custard recipe at your home.